Glass Installation & Repair - Residential & Commercial
Athens & North Georgia

Clark Glass & Mirror is Athens, Georgia's most trusted Residential & Commercial glass company. We specialize in commercial glass installation and repair, residential custom mirrors, residential glass, insulated window replacement glass and beautiful custom shower enclosures in many different finishes. Our goal is to provide you the very best Glass Products & Services. See Commercial Glass Services
* Commercial Storefront Windows
* Commercial Glass Doors
* Frameless Glass Shower Enclosures
* Framed Glass Shower Enclosures
* Residential Glass and Windows
* Glass Patio Doors
* Custom Mirrors for Bars, Salons, Hotels
* Glass Table Tops, Shelving for Bars & Restaurants
* Custom Glass Cutting
* Textured and Decorative Glass
* Plexiglass
* Broken Glass Repair

Residential Glass & Glass Shower Enclosures - Athens & North Georgia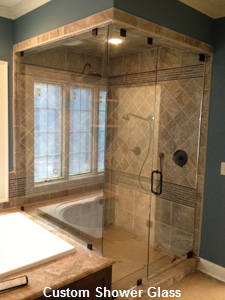 Custom Glass Shower Enclosures, custom mirrors, residential glass, insulated window replacement glass are all specialties of Clark Glass & Mirror. Athens & North Georgia residents can be assured of complete satisfaction with our glass products and professional glass services. Our goal is to provide you the best residential glass services and products available.
Residential Glass photos & information.
The ShowerGuard Difference
Ordinary glass is prone to damage and aging from hard water, soap, humidity and more. ShowerGuard glass is extraordinary. It's an entirely different kind of glass that's protected during manufacturing with a patented ion beam process. This technology permanently seals the glass surface, for a shower that stays beautiful shower after shower with just a minimal amount of cleaning.
Learn more about ShowerGuard Glass
Sun Room Glass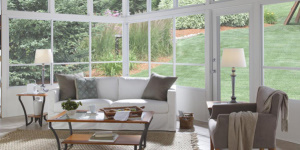 Clark Glass & Mirror has latest products for your screened porch or sun room. We can install new window panels in your existing frames or we can work with your contractor to give you the very best in windows and screened panels to protect your porch from harsh weather and pollen, with tinted glass or new unbreakable EZE-Breeze Vinyl Tech Windows. Protects your sun room against flying debris during storms or accidental breakage. More information about Sun Room Glass.
Clark Glass & Mirror
1630 Glenn Carrie Road
Hull, Georgia 30646
Map & Driving Directions