All Glass Shower & Bath Enclosure has several advantages:
* Much easier to clean and maintain
* Enhances the beauty of your bathroom
* More efficient use of bath space
* Adds lasting, real value to your home
* Quality Craftsmanship
The ShowerGuard Difference
Ordinary glass is prone to damage and aging from hard water, soap, humidity and more. ShowerGuard glass is extraordinary. It's an entirely different kind of glass that's protected during manufacturing with a patented ion beam process. This technology permanently seals the glass surface, for a shower that stays beautiful shower after shower with just a minimal amount of cleaning.
Learn more about ShowerGuard Glass. Download ShowerGuard Brochure.
ShowerGuard allows shower enclosure customization without sacrificing scum resistance. Thanks to Guardian's patented sealed surface technology, ShowerGuard glass stays beautiful and scum resistant shower after shower.
Available in 6mm, 10mm & 12 mm thickness, ShowerGuard allows homeowners to custom create spa-like environments they've always wanted-without committing themselves to a lifetime of heavy-duty cleaning.
Exact measurements are crucial to reducing leakage problems. Our craftsmen measure and precisely fit the shower enclosures we install. Each installation is uniquely matched to the specs and size of the shower area and checked again throughout the process for accuracy.
This same quality control standard is practiced by our installers on all jobs and applied to full surround screens as well as to single glass door installations. So whether you choose framed or a frameless design, you can be sure that the workmanship is the very best - we guarantee it.
We install a custom glass shower for new homes and for remodeling projects. There are many benefits for both homeowners and home builders. In addition to Warranty protection for all our installations, Clark Glass will give you superior results and support you can rely upon.
Call us today at 706-549-5145 for your new glass replacement shower. We'll be happy to discuss your project's requirements and offer you options for door hardware, trim colors, finishes and glass textures. A custom-fitted bath enclosure is an investment in your home you will enjoy for years to come.
Sun Room Panels & Vinyl Tech Porch Enclosures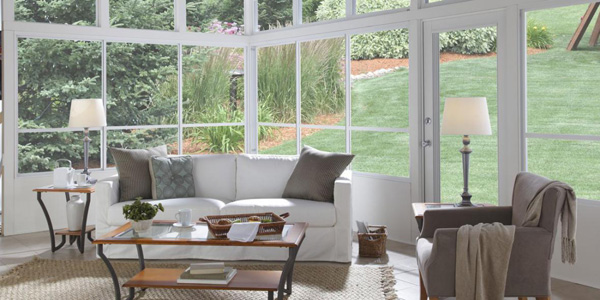 Sun Rooms with glass and screens are quickly replacing screened porches. Clark Glass can provide you the best glass and vinyl products for your sun room so you can enjoy it year round. We can install new window panels in your existing frames or we can work with your contractor to give you the very best in windows and screened panels to protect your porch from harsh weather and pollen, with tinted glass or new unbreakable EZE-Breeze Vinyl Tech Windows. Donít just settle for a screened porch when you can have another room for your home for just a little more money. Seal out the cold and pollen with sliding windows. Open the windows for cool summer night breezes or close them in winter and enjoy the room even when it is cold outside. Call us today for a free estimate.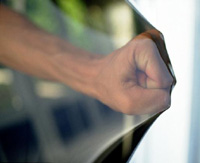 EZE-Breeze is a sensible alternative to glass when it comes to porch windows. This flexible material is transparent, just like glass is, but is not breakable. You can enjoy your porch all year round when you choose Vinyl Tech / EZE-Breeze Sliding Panels over glass or screen. The 10 mill premium vinyl looks like glass but you can press your hand into and it will give and then return to normal once your hand is removed.
Call Clark Glass & Mirror for more Information about any Residential Glass installation and ask about EZE-Breeze products.
Clark Glass & Mirror
1630 Glenn Carrie Road
Hull, Georgia 30646
Map & Driving Directions